In de praktijk wordt voor het uittekenen van processen nagenoeg steeds gebruik gemaakt van de standaard BPMN (Business Process Model and Notation). Deze standaard bevat een aantal elementen die zowel voor business als voor technische users intuïtief zeer duidelijk zijn. Onder meer het simpele feit van het horizontaal plaatsen van swimlanes in een schema in plaats van verticaal helpt de leesbaarheid voor business users sterk vooruit. Mensen, toch de westerse, zijn het nu eenmaal gewoon om informatie van links naar rechts door te nemen…
Toch is het ook relatief eenvoudig om op basis van de BPMN-standaard schema's te creëren die onbegrijpbaar zijn voor business users. Wanneer de BPMN standaard rigoureus wordt gevolgd dan ontstaan schema's met symbolen die totaal niet intuïtief zijn voor business users. Ik denk hierbij onder meer aan volgende symbolen:

Slechts weinig business users kennen de betekenis van deze symbolen (klik op de afbeelding voor een beter leesbare versie van de twee activiteiten links). Komt daar nog bij dat deze symbolen slechts enkele voorbeelden zijn van een nog veel ruimere set. De betekenis die men via deze symbolen wil toevoegen aan een schema zal dus helemaal niet begrepen worden door business users.  Dit is natuurlijk bijzonder jammer omdat een processchema nu net een instrument is dat gebruikt wordt om overeenstemming te bereiken tussen alle partijen. Als een deel van het schema niet begrepen wordt hoe kan men dan zeker zijn dat alle partijen akkoord zijn over hetzelfde?
Pogingen om de betekenis van symbolen dan maar via een legende toe te voegen aan een schema halen helaas ook niet veel uit. De meeste business users hebben gewoon niet de tijd om de legende grondig door te nemen of de, vaak subtiele, verschillen worden gewoonweg niet begrepen.
Voor het uittekenen van processen is het als business analist daarom beter om het aantal verschillende symbolen zo beperkt mogelijk te houden. Uit mijn eigen ervaring heb ik ondervonden dat voor nagenoeg elke type schema dat besproken moet worden met business users volgende symbolen volstaan: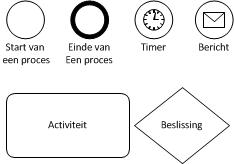 Door enkel deze symbolen te gebruiken zal niet elk schema volledig voldoen aan de BPMN-standaard. Maar de vraag is natuurlijk "Wat is er het belangrijkst: de standaard of de leesbaarheid?"