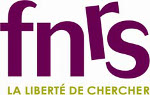 Téléchargez les slides d'Isabelle Boydens (1 MB) et d'Anthony Cleve (30 MB).
—————————————————————————————————
La prochaine réunion du groupe de contact FNRS « Analyse critique et amélioration de la qualité de l'information numérique » se tiendra le mercredi 11 mai 2016 à 14h00 à l'Université Libre de Bruxelles (auditoire AY 2 108, bâtiment A campus du Solbosch).
Nous aborderons cette année le thème suivant :  « Analyzing the evolution history of data-intensive systems in support to software maintenance ».
La rencontre s'adresse tant aux concepteurs qu'aux utilisateurs de données issus des mondes scientifiques et industriels. Le FNRS insiste sur le caractère pluridisciplinaire du groupe en le mentionnant simultanément sur son site web dans les catégories suivantes : sciences appliquées et sciences humaines et politiques.
Un membre de la « section Recherche » de Smals et, en particulier, de son Centre de Compétence en Qualité de données, Présidente du Groupe de contact FNRS, en présentera l'introduction générale.
On trouvera le formulaire d'inscription, les modalités pratiques ainsi qu'une présentation détaillée des exposés et intervenants sur le site web de l'ULB via le lien suivant : programme détaillé et inscription.  La réunion se terminera par une table ronde au cours de laquelle tous les participants qui le souhaitent seront invités à intervenir et sera suivie d'une réception.
La thématique abordée nous conduira dans les méandres complexes de l'archéologie des données, domaine stratégique pour la qualité de l'information.
La maintenance des bases de données en relation avec le code de programmation : une problématique stratégique pour garantir la qualité des système d'information. 
Nous présentons ici, sur la base du résumé fourni par l'auteur des recherches et l'orateur principal de cette journée FNRS, Anthony Cleve(*), les grandes articulations de l'exposé :
à ce jour, les programmes informatiques ont envahi tous les secteurs de la vie moderne et sont considérés comme faisant partie des "artefacts" parmi les plus complexes construits par l'être humain.
de ce fait, la maintenance du software dans le temps (incluant l'historique du code) et son "reverse engineering", dont la complexité s'accroît suite au manque fréquent de documentation, peuvent couvrir jusqu'à 50% des coûts de la maintenance totale en informatique.
si la recherche s'est concentrée à ce jour sur ces questions et sur la mise en place de "software repositories" et d'une gestion de versions des programmes, trop peu d'attention a été accordée à la gestion des bases de données associées au code. Or, comme l'écrit l'auteur : "This is an unfortunate gap as many software systems are data-intensive , i.e., their central artefact is a database."
par ailleurs, lorsque l'on examine un système d'information dans son ensemble, sa maintenance et ses migrations éventuelles, il y a des interactions itératives dans la compréhension :

du code de programmation (software), de ses composantes et de leurs évolutions éventuellement asynchrones dans le temps.
des bases de données accédées par le code, de leurs contraintes d'intégrité et de là, du domaine d'application représenté.

le but de l'exposé consistera donc à examiner les interactions entre bases de données et programmes correspondants, de façon à réduire l'écart entre l'étude de chacun d'entre eux et à en examiner l'évolution conjointe dans le temps.
en particulier, Anthony Cleve présentera DAHLIA (Database ScHema EvoLutIon Analysis), un 'visual analyzer of database schema evolution and manipulation'. Cet outil analyse l'historique de l'évolution du schéma de la base de données à partir des repositories du software et permet son analyse interactive et visuelle.
DAHLIA permet également aux développeurs :

d'identifier et d'analyser les accès aux données dans des systèmes très dynamiques.
de formuler des recommandations sur l'impact des changements du schéma des bases de données sur les programmes.

Un exemple de l'usage de DAHLIA pour analyser des systèmes d'information recourant à grande échelle et de manière intensive aux données inclura l'étude d'OSCAR, un vaste système d'information open source utilisé largement dans l'industrie des soins de santé au Canada.
Programme détaillé de la rencontre du 11 mai 2016 
L'accès à la rencontre, qui est financée par le Fonds National de la Recherche Scientifique, est gratuit. Les inscriptions seront clôturées le 8 mai 2016.
13h30 Café et accueil des participants.
14h00 Mot d'accueil par Françoise D'Hautcourt, Docteur en Sciences Appliquées, Professeur de l'ULB et Professeur honoraire, Membre fondatrice de la filière STIC (ex Infodoc), Membre fondatrice et première Présidente de ce groupe de contact FNRS
14h10 Introduction, par Isabelle Boydens, Présidente du groupe de contact FNRS « Analyse critique et amélioration de la qualité de l'information numérique », Professeur ordinaire à l'ULB et responsable de la « Data Quality Cel » au sein du département Recherche de Smals et membre du centre de compétence DATA de Smals.
14h20 "Analyzing the evolution history of data-intensive systems in support to software maintenance", par Anthony Cleve, Secrétaire du groupe de contact FNRS « Analyse critique et amélioration de la qualité de l'information numérique », Chargé de cours à la Faculté d'Informatique de l'Université de Namur et Maître de conférences au sein du MaSTIC de l'ULB.
15h30 Débat et table ronde. Modérateurs : Joël Goossens, Chargé de cours au département d'informatique, service qualité et sécurité des systèmes informatiques, Faculté des Sciences, ainsi qu'au sein de la filière Mastic, ULB et Isabelle Boydens
16h00 Réception
—————————-
Notes
(*) Anthony Cleve is a professor in information system evolution at the University of Namur, where he is the director of the PReCISE research center, bringing together over 50 full-time researchers, focused on the engineering and management of advanced information systems. He is also a visiting Lecturer in database engineering at the Université libre de Bruxelles. His research interests include data-intensive system maintenance and evolution, software and data reengineering & migration, data modeling, program analysis & transformation, and self-adaptive and context-aware systems.He has co-authored over 50 publications related to software and systems engineering, published in international conferences and journals.
Anthony's PhD thesis, entitled « Program Analysis and Transformation for Data-Intensive System Evolution », earned him the IBM Belgium 2010 Award for the best PhD thesis in Computer Science and applications. He was also nominated for the Cor Baayen Award 2012, offered to a promising young researcher in computer science and applied mathematics. Anthony regularly serves in the organizing and/or program committees of many international scientific events. He served as co-chair of the ERCIM Working Group on Software Evolution, Steering Committee member of the International Workshop on Principles of Software Evolution, and program co-chair for the 2012 and 2013 editions of the European Conference on Software Maintenance and Evolution.