VIDEOTALK: NO SOFTWARE REUSE WITHOUT A DISCIPLINED API MANAGEMENT – LESSONS LEARNED AT SMALS
At Smals, our goal is to support a plethora of government agencies and to render administration more efficient. APIs play a central role in the exchange of data and the automation of business workflows, both within and between our different clients, and even with private sector stakeholders. The goal is typically not to monetise our work, but to minimise public expenditure.
For many years now, software reuse has been a central tenet to this end, and APIs its basic building blocks. In practice, however, reuse would be impossible without a disciplined API management. In this videotalk, Koen Vanderkimpen from Smals Research demonstrates the journey of Smals towards the increased adoption and maturity of API governance among government stakeholders using a standards based, inclusive, and bottom-up approach, and give a brief overview of our current challenges.
The videotalk is recorded for THE API EVENT, an online event organised by Heliview from 10 December to 21 January 2021. Since May 2021 the recording is publicly available on our Youtube channel.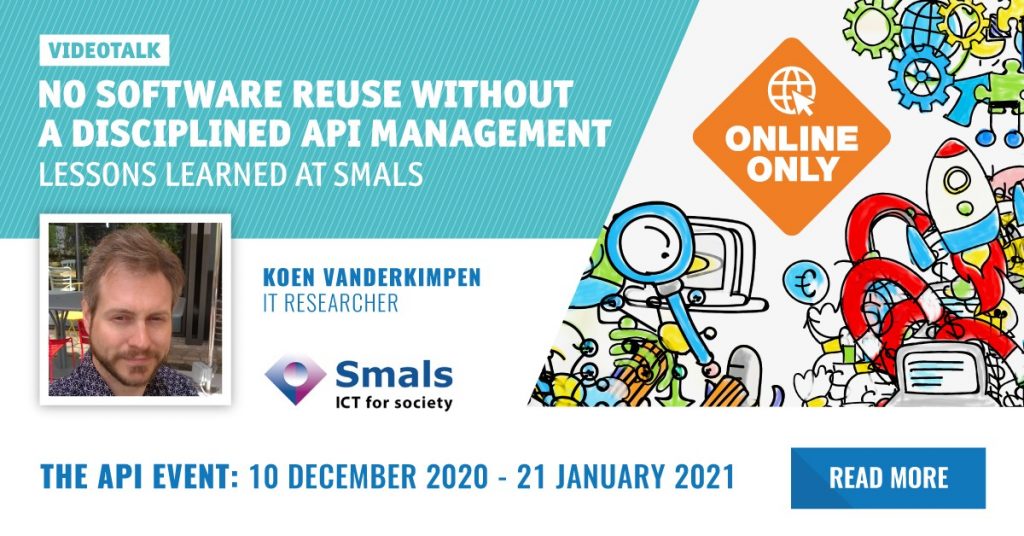 Access to the Recording
Access to the Slides