Verwacht wordt dat de komende maanden BPMN versie 2.0 definitief zal goedgekeurd worden door OMG. Op basis van de tussentijdse beta releases krijgt men nu al een goed beeld van de wijzigingen in de nieuwe versie.  
Bij het doornemen van de specificaties blijkt al snel dat het aantal mogelijke symbolen sterk is toegenomen. Het gebruik van nog meer verschillende symbolen zal de leesbaarheid van schema's zeker niet verhogen. Het kan niet de bedoeling zijn dat een business user een handleiding moet raadplegen om een processchema te begrijpen.
Niettemin bevat versie 2.0 toch een aantal zaken die wel intuïtief zijn en die een verbetering zullen vormen tegenover de huidige versie. 
Een probleem dat men vaak heeft bij het uitteken van een schema is dat men geen manier heeft om aan te geven of een bepaalde activiteit een manuele taak is of een taak uitgevoerd door een systeem. In BPMN 2.0 bestaat nu de mogelijkheid om het type van de taak aan te geven. 
7 types werden gedefinieerd: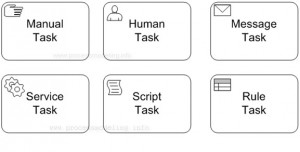 Het onderscheid tussen een "manual task" en een "human task" is vrij subtiel. Een human task is een taak die aan een persoon wordt toegekend door bijvoorbeeld een BPM systeem. Een manual task is een manuele taak waarbij geen systemen komen kijken, vb. het bezoeken van een werkgever. 
De overige taken zijn eerder systeem gerichte taken. Het zou ons te ver leiden om deze allemaal te bespreken. 
Mij lijkt het vooral nuttig om het onderscheid te maken tussen taken uitgevoerd door personen en taken uitgevoerd door systemen. De symbolen "human task" en "service task" lijken mij hiervoor het meest geschikt.
Een tweede nieuwigheid in BPMN is de toevoeging van een aantal nieuwe data objecten. In de huidige versie bestaat enkel een generiek data object. Dit kon om het even wat zijn: een document, een databank, een bericht, … In de nieuwe versie worden een aantal nieuwe symbolen toegelaten naast het generieke data object. Terug is niet elk symbool even intuïtief, maar het toevoegen van het algemeen gekende symbool voor een databank / databron is zeker nuttig.

Meer informatie over BPMN 2.0 kan gevonden worden op http://www.bpmn.org