Over de evolutie van Web Development.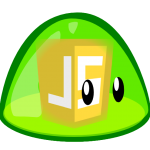 Tegenwoordig gebruikt men voor het bouwen van een website of web-applicatie technologie die heel anders is dan 20, 10, of zelfs 5 jaar geleden. Anderzijds zijn er een paar zaken nog altijd hetzelfde. Bovendien gebruikt men deze technologie om steeds nieuwe, en vaak complexere en mooiere sites en applicaties te bouwen – maar anderzijds maakt men ook nog altijd eenvoudige websites. In deze blobg bespreken we een recente evolutie die al een handvol jaren komende is, we noemen deze de "Frameworks Blob".
To Enterprise, or not to Enterprise?
Wat het bouwen van websites en webapps betreft, volg ik al een tijdje welke zaken hip zijn, welke zaken uit de mode geraken, en welke zaken er in de nog aparte wereld van "Enterprise" development gebeuren. Naar mijn mening vindt er nu een interessante evolutie plaats: meer en meer professionele software huizen ("enterprises", dus) gebruiken – of bekijken op z'n minst – technologie die minder als "Enterprise" technologie gezien wordt.
Maar wat is Enterprise technologie dan wel? Volgens de definitie is het eigenlijk gewoon 'technologie ontwikkeld op maat van bedrijven i.p.v. individuele gebruikers'. Waar velen van ons – of ik toch – echter aan denken wanneer we het woord "Enterprise-ready" horen vallen is: matuur, stabiel, zwaar, complex, full-blown en moeilijk. Kortom, technologie die, beter dan andere, goed werkt als ze goed gebruikt wordt, maar niet fijn is om goed te gebruiken.
Anno 2010, Blob as Usual
Op onderstaand assenstelsel heb ik weergegeven op welke manier de meeste applicaties worden ontwikkeld. De horizontale as toont de complexiteit van de website of -app: links heb je de meest eenvoudige websites, rechts de meest complexe en "mastodontale" web-applicaties. Op de verticale as heb ik een aantal technologieën, talen, pakketten, methodologieën… kortom bouwstenen geplaatst die kunnen worden gebruikt om deze webprojecten mee te ontwikkelen. Bovenaan staan de eenvoudigste: zaken zoals Html, de elementaire bouwsteen van het web, en Javascript, een taal die men rechtstreeks in de browser kan gebruiken. Onderaan vinden we meer en meer "enterprisey" technologieën terug: zaken zoals SOAP, J2EE en – huiver – Cobol (jawel, zelfs voor web 2.0). Het is uiteraard voor discussie vatbaar waar welke bouwsteen juist op deze as thuishoort. Bovendien kunnen dergelijke technologieën en talen verschuiven op deze as: ze kunnen minder, of juist meer "enterprisey" worden, naarmate ze matuur worden.
De groene "Blob" tenslotte, is waar, volgens mij, het grootste gewicht van alle web development gebeurt: traditioneel en logischerwijs worden dus de meeste eenvoudige sites en applicaties met eerder eenvoudige technologieën gebouwd. Zware en complexe applicaties worden echter – vaak terecht – met enterprise-ready technologieën gebouwd. Business as Usual…
 Anno 2014, the Blob deforms…
Zoals in het begin reeds gezegd: meer en meer web development schuift weg van technologie die te "Enterprise" is, richting lichtere raamwerken die alles in het werk stellen om het bouwen van webapplicaties zo snel en eenvoudig mogelijk te maken. In de onderstaande figuur vertaalt zich dit in een verschuiven van de onderkant van de "blob" naar boven toe: dus ook voor complexere applicaties worden nu meer en meer lichtere en kleinere bouwstenen gebruikt.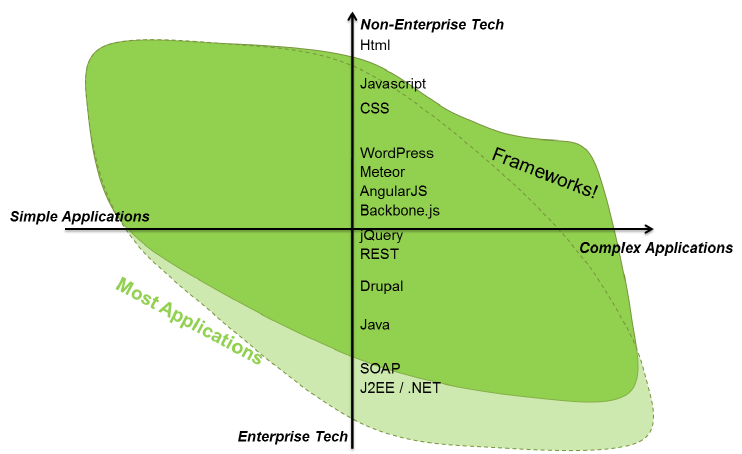 Wat we bovendien ook nog zien, is een soort van deformatie; een bochel op de blob, als het ware. Deze wordt veroorzaakt door de recente evolutie van de Javascript raamwerken, zoals AngularJS en Meteor. Deze raamwerken baseren zich op de meest eenvoudige technologieën (Html, Javascript en Css), maar
bieden tegelijk een zeer krachtige ontwikkelaarservaring, waardoor men via weinig werk toch enorm veel resultaat kan boeken. Het zal dus niet verbazen dat steeds meer web-projecten van dit soort raamwerken gebruik maken, zeker als het gaat om het beheersen van complexiteit. En dat verklaart dus meteen de bult op de blob!
Zal de blob in de toekomst nog op andere manieren vervormen? De Kerstman kan het ons misschien vertellen…
Vrolijk Sinterklaasfeest  !